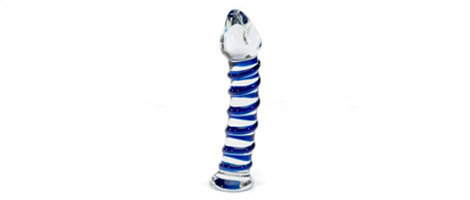 Sex Toys - Materials
Sex toys come in a diverse variety of materials and with so much to choose from, it may be overwhelming if you're still learning. Knowing what to look for will improve your toy experience by leaps and bounds. Learn about the pros and cons of each type of material so that you can choose sex toys that best suit your needs.
Silicone
Silicone toys are usually high quality, durable and shareable - but you do have to fork out some extra money for these highly sought features. This type of material is ultra popular for a number of other reasons. Silicone toys are smooth, soft and non-porous. They can reach and maintain body temperature that makes for a realistic and comfortable sexual experience. Being non-porous is ideal for a toy that can be shared between partners.
Silicone also allows for easy clean up: it can be washed with soap and water or sterilized in boiling water. You can even run it through a dishwasher cycle (with the exception of silicone vibrators with electronic components inside). Silicone is a soft, yet strong, material that can have a very long life span if it's taken care of. Silicone is ideal material to consider because it is hypoallergenic, non toxic and easiest to sterilize - that's why it's used in a wide range of toys.
Rubber/Latex
Firmer than silicone, rubber toys are popular because of their lower cost and versatility. They have the one-up on their jelly counterpart because there is less probability to encounter that unpleasant plastic smell. On the other hand, rubber toys are much firmer than jelly, which could result in a less realistic experience. They're porous - so no sharing with a partner without a condom on it.
Rubber toys may cause allergic reactions due to sensitivity to latex. They've also been known to wear out faster than their silicone or jelly counterparts. The clincher for rubber is cost effectiveness without the stink.
Plastic
The general nature of this material is that it's hard and non-flexible. The advantage, however, is that if you like the feel of a strong vibe, plastic is the way to go. Plastic is ideal for transmitting vibrations, compared to materials like jelly that absorb it. Therefore, the stimulation from a plastic vibrator is going to be more intense than that from another type of material. This explains why plastic is more popular for clit teasers and vibrators rather than for thrusting toys. It's quite easy to clean too.
Plastic vibrators are well suited for direct clitoral as well as both internal and external stimulation. Cleaning is a breeze and requires only a wet soapy washcloth, sex toy sanitizer, or a tissue soaked in rubbing alcohol. As most plastic vibrators are not waterproof, they should not normally be washed under running water. Check out waterproof vibrators if you want one that you could use in the bath or shower.
Jelly
Jelly toys are popular because of advantages like low cost, flexibility and variety. It may not feel totally real, but the squishy factor is decent and if you use a good amount of lube, you can really enjoy yourself.
Jelly toys come in a variety of wild shapes and styles; you can stock up on a bunch because it's affordable.
The other side of the story is that jelly toys can impart varying levels of fairly offensive smells and they are sticky to the touch. They are porous so you shouldn't share them with your partner (without a condom, or unless you are both tested for STDs) and you may just want to stick with rinsing them under warm soapy water. They may also irritate a sensitive vagina.
Jelly will degrade if exposed to a non-water based lubricant or rubbing alcohol, so always use a water based (NOT oil) lubricant. Jelly toys will take on mold and bacteria if they're exposed to too much moisture in the air so take great care in how you store them.
Nu-Skin
Nu-Skin is a sexy new material that is proliferating in the sex toy market because of the realism it adds to your toys. It's known by a couple of different names like Cyberskin or Ultra Skin, and is the closest you can get to the look and feel of real skin. It feels soft when you caress it, it's not sticky like jelly and the visual detailing that can be achieved is impressive. The cost, however, does reflect the benefits.
The other major consideration for nu-skin is the care. It is porous, so you have to be careful cleaning it; you should follow the same washing instructions suggested for Jelly. You also need to be careful as it is delicate and known to attract lint and dust. It may also require some additional care and caution when storing; keep it stored in a lint free sock or a satin satchel.
Glass, Acrylic & Metal
Glass and Acrylic toys are durable and ultra modern. These types of materials allow for easy cleaning and are non-porous which is, again, great for hygienic purposes.
Glass Dildos can be visually pleasing, but make sure to get a product made of durable glass. The material can be lightweight but is best suited for those looking for a firm toy. Lots of lube will definitely add to a slick and sensual experience. The surface is smooth and is something that you'll actually want people to find on your bed stand.
Acrylic is a form of special plastic; it can be very beautiful as it has visual properties similar to glass.
Metal dildos are similar to plastic ones, in that they have a hard, usually smooth exterior and are easy to clean.